One could venture a guess and say that Family Stafford
are extroverts…and it's no surprise that we LOVE people!
Heck, we love people so much there are now 7 of us
piled into a car, running around the house, or cramming
into a table at the local Food Barn…but we love it!
And today I want to introduce you to someone we know outside
LivingHope who is probably one of the most important people we know.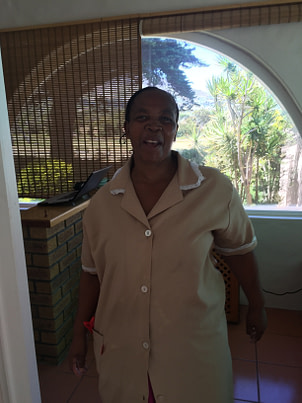 Trust me when I tell you that her Xhosa name isn't as hard to say
as it is to spell 🙂
Vicky visits us twice a week from her home in Khayelitsha to bless us
by cleaning our house and chatting with us openly and honestly about
some TOUGH topics!!
She's from the Eastern Cape, has 4  grown children, annoys her neighbors
with all her 'Jesus talk', speaks English and Xhosa, loves people, loves kids,
and is a joy to have  around on Tuesdays and Fridays.
First, the kids look forward to her smiling face and often spend their time
helping her clean toilets, hang up laundry, or just talk her ear off
about their little lives while she mops and dusts.
She patiently chats, tests, and OFTEN laughs…it's so cool to hear.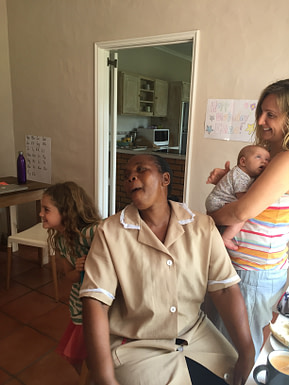 She frequently tells me how great Aubree and I are doing with the  kids…
which is such a blessing because here's a lady who raised 4 kids ON
HER OWN in a time and place that's not suited to great child rearing.
Are her kids perfect?…no…ours?…NO 🙂
But by the grace of God we are here sharing and helping each other 🙂
When I get home she's usually ready for tea and lunch and
I'm getting my afternoon coffee ready for a night of work…
which gives us some  time to chat and ask each other tough questions
that we frankly don't know answers to.
We talk about Black vs White culture here…when the 'racism' will end
on both sides…angels… problems with kids and drugs… and so many more.
What's CLEAR is that discussions can be had when both people
LISTEN to each other, are honest about what they do NOT  know, and
where the other person is coming from.
It's just amazing to chat with her, get her insights, and see her faith
in God flourish when she faces challenges.
It's not a fake faith either…or fake challenges.
Faith that's actually BEHIND the "Christian Platitudes" that are often
thrown out by those who've never been tested. She actually has to USE
the 'Sunday School' sayings that we all kinda take for granted. She gets
to apply them DAILY which has built in her a faith that amazes me daily.
She has highs and lows just like us all, but she continues to be
strengthened not by her successes here on earth, by her job, or by her
kids…but BY THE LORD!!
She's amazing. That's really the only way to put it.
That's all…just the amazing Vicky!
Please pray for her that she continues to be a JOY where ever she goes,
that God continues to help her get through daily challenges, and that her
family sees God THROUGH her.
Best,
Brad