This week I had a great conversation with a group that, in my eyes, is ROCKING!
Their funnels are great, they have awesome products, and they're actually helping traders.
But the conversation wasn't all good as they shared with me a PAINFUL stat:
$55,461.00 spent on Facebook
$4,200.00 in sales.
Now, they're generating a TON of organic traffic and leads, as well as YouTube where they're getting ROI's that allow them to continue to invest DAILY in those channels.
But they've tried everything to make Facebook work as they know that it's a source with massive potential.
They told me how they tried running campaigns internally…with little success…and have outsourced their FB ads to 3 different agencies…with NO success. After chatting for a while, I shared with them a couple secrets that I'll share with you now.
First, if their funnels and offers are converting on OTHER ad channels, then that's not necessarily their problem. They have the EPC/EPL data to show they're making positive ROI on all other advertising channels, but Facebook keeps missing.

As my friend Justin Brook has taught me: analyze the data and path the prospect. This company IS pathing well…but the data from their FB campaigns is showing failure.
I recommended that they test multiple funnels and squeeze pages, as well as price points on their Facebook traffic to see if that moves the needle. Often it's just messaging and pricing that could make a difference.
But I told them, quite frankly, that this would only make minimum impact on their bottom line. Their BIGGEST issue lies elsewhere.
Here it is: If they have funnels and offers that are converting on other channels…why not Facebook? Simple: it's the AUDIENCE!
Ads are being shown to an unqualified, unengaged, and downright crappy audience! They tried all the 'tricks' suggested by the agencies, but still kept coming up short.
They might have gotten more clicks…but those clicks never materialized into results.
This is one thing we at TradersNewsMedia learned…it's ALL ABOUT THE AUDIENCE!!
If our clients have decent funnels, we can find their buying audience for them…but it's taken YEARS, literally millions of dollars, and LOTS of headaches to build the best trading audiences.
So here's the takeaway for YOU: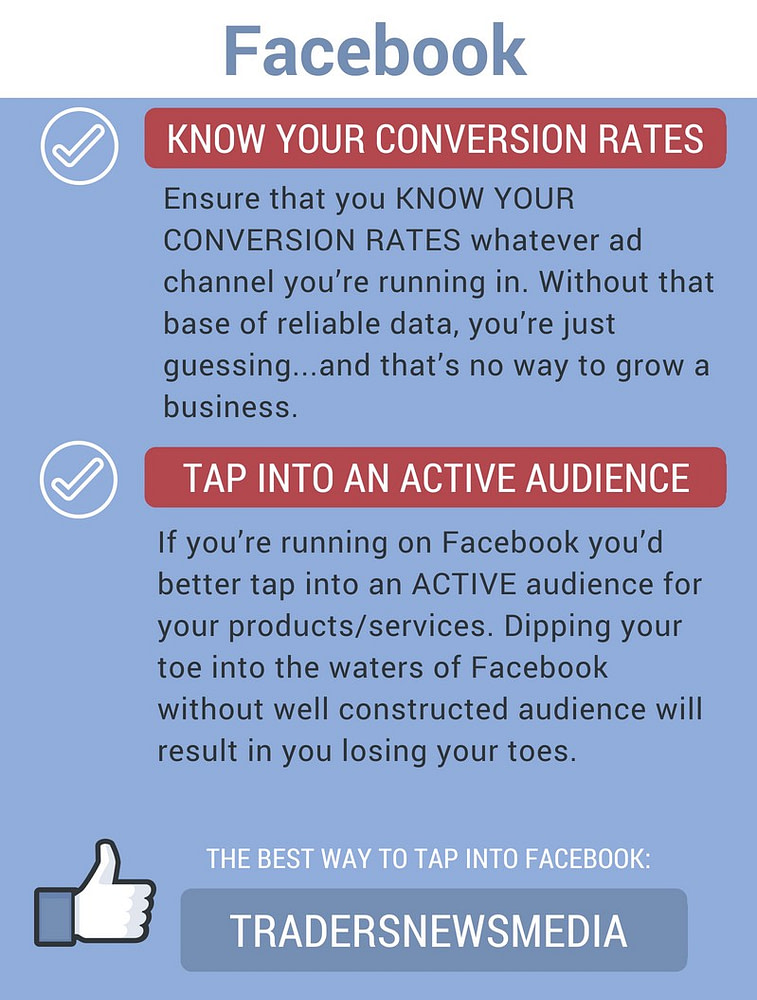 Facebook is a channel that we've mastered for the trading niche and our clients results speak for themselves (Click here to read our CLIENT REVIEWS).
We do not work with dozens of clients…so if you don't have a goal to SCALE, AND know your conversions please just continue to read my articles and apply what you can.
HOWEVER…
If you want to SCALE into Facebook, know your numbers, and want to prep for a HUGE Fall then contact today: brad@bradstafford.com.
To everyone else…HAVE A GREAT DAY!
Brad