Flashback with me…(and mind you this might get a little personal)
The year was 2011 my new consulting business was off to the races! I was working with awesome clients, making connections beyond what I thought, and learning business depth that working for someone else never would have afforded me.
Money was coming in, clients were making money, and business success was all around me.
However…
I was miserable deep down.
I was working a TON. Spent a lot of time in my basement, spent a little time with my family, and was stressing on max. Reading the Bible was not my priority (BIG MISTAKE), I wasn't treating my wife the way she needed to be treated, and my kids got my worst instead of my best.
Truly I was lost, trying to do EVERYTHING on my own…administration, writing, ideas, new product development, ad buying, affiliate wrangling, and trying to do LIFE on my own.
I was turning to myself for help and thought I could work my way to the things that I wanted, I tried to do it on my own.
I finally had a breaking point in my life, that lead to true change.
First and foremost, God rescued me from myself. Freed me from guilt, stress, and worry. All that stuff I heard in church and Christian school over the years FINALLY made sense. Life changed totally.
Second, I finally started to take off hats and giving them to GREAT people to help me.
I started outsourcing a LOT of things that I could do…but that caused me stress and worry.
Now, I didn't come to this conclusion on my own…a seizure slapped me back to what REALLY mattered in life. My relationship with God, my family, my joy, my time, and frankly those are the ONLY things that matter. But the reality is that if I wanted be part of my family AND run a successful business I needed to outsource.
Ok ok ok…I know what you're thinking "let's get this rolling Brad, show me some useful stuff about outsourcing because my business is stressing me out and I need help, but don't know how to do it or where to turn'.
Relax…I'm ON IT!!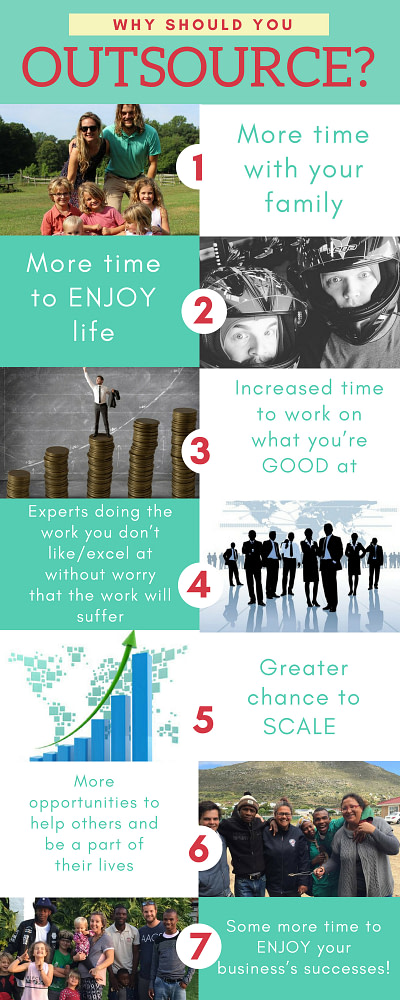 Do I really need to go into depth to explain those things?? Surely not..and don't call me Shirley. 😉
But you need to realize that your WHY in business, CAN be achieved by outsourcing projects, goals, etc.
Ok now let's talk about WHEN you should outsource
First you'll need to actually be a little critical on yourself. Judge yourself…
(WRITE DOWN YOUR ANSWERS!! I did this, against my nature, and it was SUPER helpful)
The above are the questions that successful people ask themselves as they continue to specialize and seek after what their success is. For me, it's time. For you, it might be something else.
But frankly whatever your 'something else' is, it'll require more TIME…which outsourcing can give you.
How about the HOW of outsourcing?
Here are the only two sources you need:
1. Connections.
2. Websites.
Connections is the MOST important source of outsourcing talent that you can tap into. It's the phrase that you've heard a million times, but it was one I was taught as a kid:

That's true in outsourcing for sure.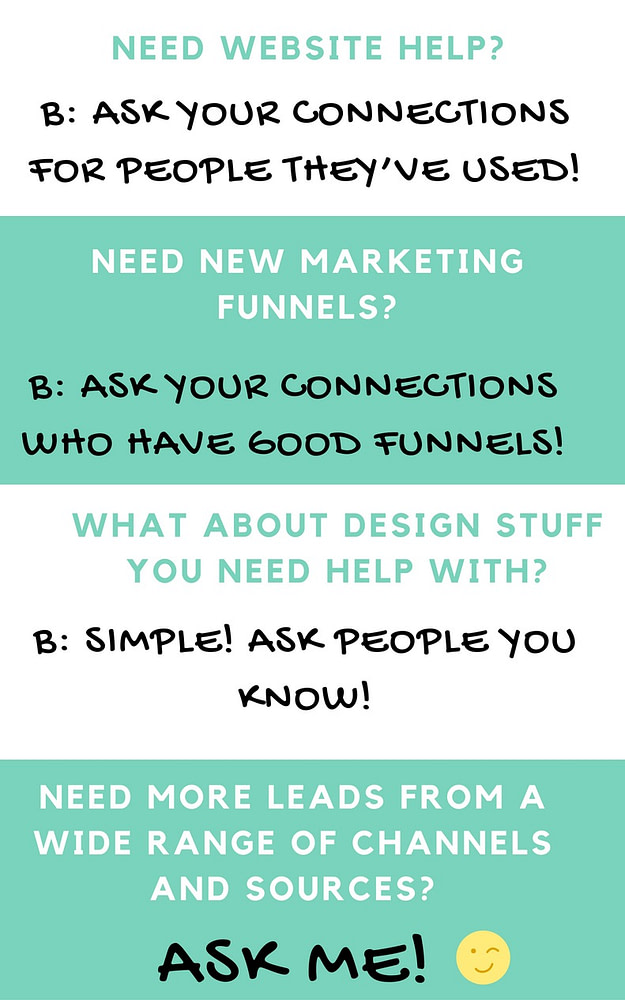 All joking aside, it's the connections you have (INCLUDING ME!) that can help point you in the right direction of people who've been vetted by people you know and trust.
Regarding websites I'll just share the ones that I've had personal and positive experience with…
FreeeUp.com, Onlinejobs.ph, and Upwork.com

There are COUNTLESS others, but think about it like this:
[bctt tweet="The best talent goes to where the traffic is." username="bradstafford3″]
Here's a quick experience I've had with Onlinejobs.ph…
For me, I struggled with admin, scheduling, follow-up reminders, etc. I could DO all that stuff but it wasn't my favorite and I knew others could do it better. So I began searching for an assistant.
It wasn't an EASY task. Had a great one to start, then a few crappy ones, and now I have Farra who I found via Onlinejobs.ph and I don't know if I'll ever let her leave! She's awesome/lifesaver/timesaver/etc etc! (Side note: I have a KILLER formula to find what you're looking for from a foreign outsourcing site, just ask!)
So here's what I expect of you now:
FIRST that you've done some self examination regarding taking work OFF your plate to help you become more successful.
SECOND, that you will email me with CONNECTIONS THAT YOU NEED! Let me be a FREE resource to help you outsource parts of your business that can lead to your success!
I'm here to help either on a professional level with paid consulting, copywriting, funnel building, media buying, etc…
But I'm also here on a personal level to help with connections!
Have a great day!
Brad