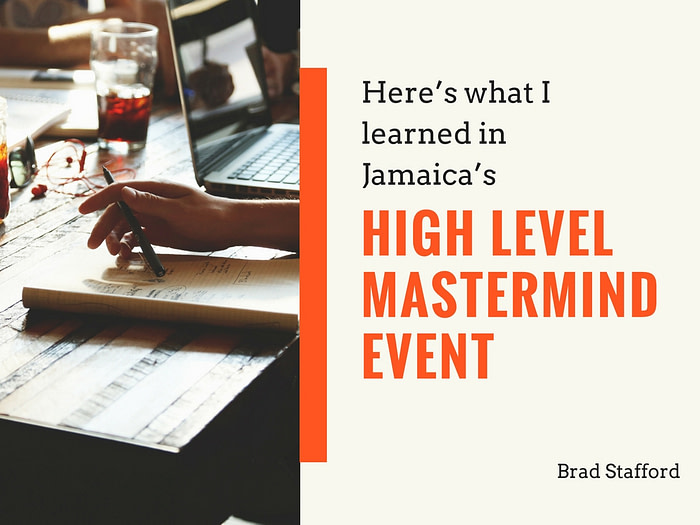 I went to Jamaica, did zero drugs, and STILL had my mind blown! 
This month, I had a chance to rub shoulders with some epic ad buyers and marketers across a dozen different industries in Jamaica's high level mastermind event.
So many awesome people with insights and expertise that I basically felt like I was drinking from a fire hose of gold! There were people who sell millions in high quality supplements via content marketing, a group of consultants for a TINY but billion dollar niche in Singapore, a 7 figure Amazon seller and her prodigy, the 'Godfather' (and his wife) of internet marketing, a 24 million dollar webinar architect, and more…trust me when I say it was a WOW event with just 12 of us.
When I sat down to write this, my outline was about 3 pages long…
Then I realized we live in a instant gratification world and shortened it down to 3 high level points that I think you should apply TODAY to your business and life!
During one break I had a chance to chat with 'the Godfather' who's been around since the advent of the internet, yet continues to be relevant and growing!
We chatted about his early successes, and failures. After hearing some incredible stories I realized the only way this guy is here NOW, is that he's never stopped pushing. There was a time when he was doing like 1000+ DAILY orders for a product he was selling, yet he never sat back and relaxed and said 'welp this will work forever'…not at all.
He kept pushing new angles, testing new tools, meeting new people, and all the time staying at the leading edge of internet advertising. Sometimes close to the line 🙂 but never resting in what's working now.
That was a recurring theme among everyone.
Pushing to see what new channels they could test, who was working on them, and what was working NOW…and how they could innovate WITHIN those channels.
You might think you're using Facebook videos well…but probably not as well as some guys who are testing native ads on people who've not yet fully watched a video, and then chasing them with pixels all over the place with content…
Using the latest tools to best reach and convert customers.
It's amazing.
As you know the tracking and measuring tools that are available for internet marketing make Orwells 1984 look like the Stone Age. With those tools for Google, Facebook, WordPress, YouTube, etc etc etc…you have DIFFERENT strategies for reaching and tracking your visitor with the GOAL of conversion.
For example, did you know that you can put out a video on Facebook to, let's say, an audience of 1 million, then target the people who have watched 100%, 90%, 75%, etc etc of the video?! Creepy right…
Wrong…it's now called good marketing!
And the BEST in the world are analyzing all the data to better convert people because someone who watched 80% of a video will convert into a customer differently than someone who's watched 50%…and each SHOULD receive different messages because they're at a different part of the conversion path.
Maybe they need more time on the video to really produce the buyer that they are looking for…or maybe they need NEW content…it's all being tested at ALL TIMES!!
Think of internet marketing as a mad scientists laboratory where he's made Frankenstein, taught rats how to speak, and yet isn't done yet! Always something new testing, always being cross checked, it's almost maddening…
Until you realize THIS IS SALES!
The last day we got some insights from the 24 million dollar webinar man…
Super interesting regarding data, how he managed to get 85,000 people to a live webinar on Cryptocurrencies, and how it was the biggest promotion in Agora history. Mind you Agora is a BILLION dollar company.
He shared 'effort' stats, how many emails were sent, the anatomy of the tech behind hosting 85k people, the affiliate results, updates from his team…and a LOT more.
What really stuck out to me, he was most proud of the process!!
Did he make great money….of COURSE…but that was just icing on the cake of doing something really innovative and FUN! Yes in all the stress of managing a beast of a promotion like that…HE WAS HAVING FUN!
And the more people I talked to there from multi million dollar ad buyers, webinar geniuses, etc etc, the less people talked about how much money THEY made vs what new they were working on.
It was really refreshing actually.
In a world in which it's all about stuff, look at my fancy car, check out my latest instagram conquest, these people stood out for their character vs their bank account.
How's that a take away from my trip…no idea.
Make of it what you will, it was my observation and impactful to me.
Hope the above was impactful and thought provoking for you as well!!
Talk soon,
Brad
P.S. What cool projects or ideas are YOU working on that excite you?
LET ME KNOW! Want to see if I can help!