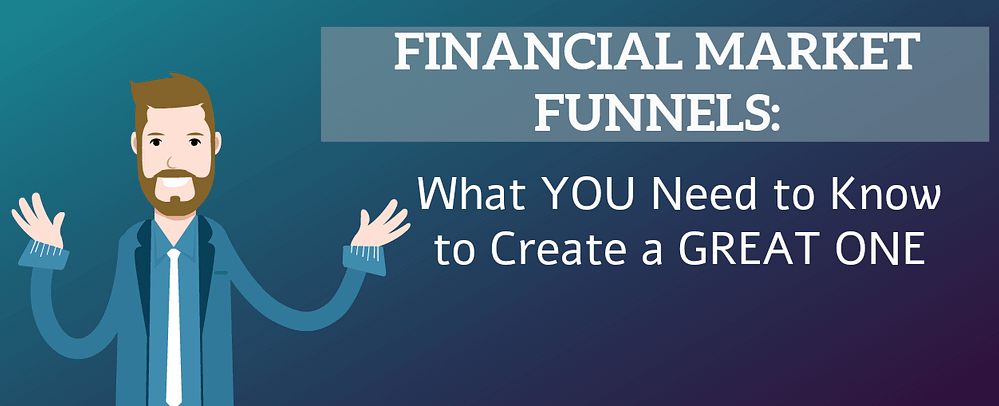 There's the timing between emails, the subject lines to consider, the CONTENT, the time to actually make a sales pitch,
the many 'if/then' scenarios, and dozens of other factors.
Trust me, it's NOT an easy thing to wrangle.
Now, add on top of those factors, let's add the single biggest challenge we in the financial space deal with: We're selling
FINANCIAL PRODUCTS!!
It's VERY hard and requires a LOT of work…
We have a LOT more factors outside our control that HUGELY affect our market place. People have preconceived notions
about us as traders, about our products in general, and then we have to deal with their psyche in a way that they expect
us to know them fully and when we don't…done.
There are times when I'm working with clients and they just drop their heads and say 'I'm done…'
But let's not give up my friends!
Even though the deck is stacked against us, we can breakthrough and help!
We can deal with market swings, presidential changes and can even manage the storm of a trader's
emotional swings, with ONE common goal:

Because that's what we want…to help.
So what's the plan?
In all my testing, writing, building, breaking, reviewing, etc. etc. etc., I found out that the basic formula that's laid out
in this article (5 Strategies To Improve Your Email Marketing) is pretty much a good starting point for how WE can
build better funnels.
The writer(s) lay out 5 basic steps that should be included/applied in your funnel:
Overall, these are GREAT topics to hit with your email funnel but in the article there's really no depth of application
to OUR niche.
Yeah there are some do's and don'ts that I'm sure you can navigate, but I'd like to highlight a few points of application
for OUR industry from each.
Now, take note that for me to really breakdown ALL aspects of a successful financial marketing funnel would take REEMS
of paper, hours of your time, and even still it would be very general…not specific to YOUR needs. That's a service
that I provide to my customers, but bear with me as I try to do my best to give you as much as possible without
spilling gallons of ink 😉
Awareness/Consideration
(I've combined these two as if you can do the first well, the second flows into the conversion naturally).
Here's what the article says about Awareness as the top portion of your funnel:
"At the top of your marketing funnel is awareness.  During this stage, prospects that are strangers to your brand
and company learn who you are. Focus on establishing yourself as a thought leader within your industry. This is
your opportunity to start building a trust relationship with your prospects."
Seems easy enough…basically send content 🙂
But WHAT content?
Here's what I recommend and you're not going to like it:
You can show them your methods are different, your strategies are different, and that YOU are different.
Who else would do that? Think about it…
See? now you get how you can raise awareness and set yourself apart!!
Look at what you normally charge for, and you're going to give it to them for FREE because you truly care
about them and their trading success.
THAT'S how you stand out and start the top of a successful funnel.
This isn't a one size fits all recommendation to raise awareness either. There are MANY ways to make it work from
your side and unless I actually see what you're selling, I have no idea of the actual structure of how that
works, but thoughtfully CONSIDER doing it.
Conversion
This is where the rubber meets the road (and kinda why we're all here).
Here's what the article says:
"At this point in your marketing funnel, you can start talking about why your product and service is better
than your competitors' and why it's perfect for your prospect. Focus on the benefits of your product/service
rather than just explaining features."
What's hard about this point is that I believe the conversion process should be PART of the awareness
or consideration process as you can/SHOULD be seeding your product benefits for their CURRENT
trading situation.
Think about this in regard to your products…
If you're educating people via your market analysis and insights, via your expertise in trading, via your
desire to help your leads to become better traders, then YOU'RE ALREADY CONVERTING!
Now is the point where you ask for the sale more clearly and more TIMELY regarding what's going
on in the market NOW…and how YOU can help them…NOW.
Remember, what's different about the financial space is the power of the market to actually
influence customers day to day, week to week.
With fitness stuff, it's always a good time to exercise and stop eating chips on the couch.
But with trading products, the market might be BULL now which plays perfectly into XYZ set-up that you have.
See the difference?
Your CONTENT should be pointing back to your products most of the time.
Here's where it gets tricky with your funnel…
IT WILL NEVER NEVER, NEVER BE THE SAME MONTH TO MONTH, WEEK TO WEEK!
Due to market changes, political changes, etc. etc., you have to update your funnel to highlight
your content AND products that matter to the clients in THAT market condition.
Make sense?
Questions or comments, just email or comment below. Let's move onto the last stage.
Loyalty/Advocacy
I've combined these two as well for one good reason:
If you're doing your job with the first part of the funnel these things happen almost naturally!!
If you're sharing great market insight, if you're showing that you care about their success, if you're
giving your audience the BEST products/services, then you're already building loyalty and advocacy.
Remember, traders want to follow and learn from other GREAT traders! And you ARE a great trader!
It's your funnel that needs improvement 😉
But you have to EARN their loyalty.
If you do the above well, you're EARNING IT! Keep it by being awesome and sharing the BEST stuff
with them while offering them the highest quality products and services you can provide.
What's the takeaway?
First, you'd better be working on your funnel right this second.
Second, your funnel better have NEW content coming into your funnel that has content pointing to how
your products and services solve their trading problems in THIS CURRENT MARKET.
Fit your stuff to the market.
Third, you've gotta ask for the sale by SHOWING THEM that you're the key to their trading success and future.
Fourth, just be you. Focus on being yourself and HELPING traders.
There you have it in 5 pages the BASICS that you need to build an amazing, deep relation, high
converting funnel that's trading NICHE focused.
Think you can tackle it and make it a million dollar funnel?
GO OUT AND GET IT DONE!!
If you have questions or want me to check out what you have (or actually do it for you) just ask! I'm here to help!
Cheers,
Brad
P.S. Here's how to contact me for a free consult:
Email: brad@bradstafford.com
Phone: (443) 618-6676
Skype: brad.stafford928