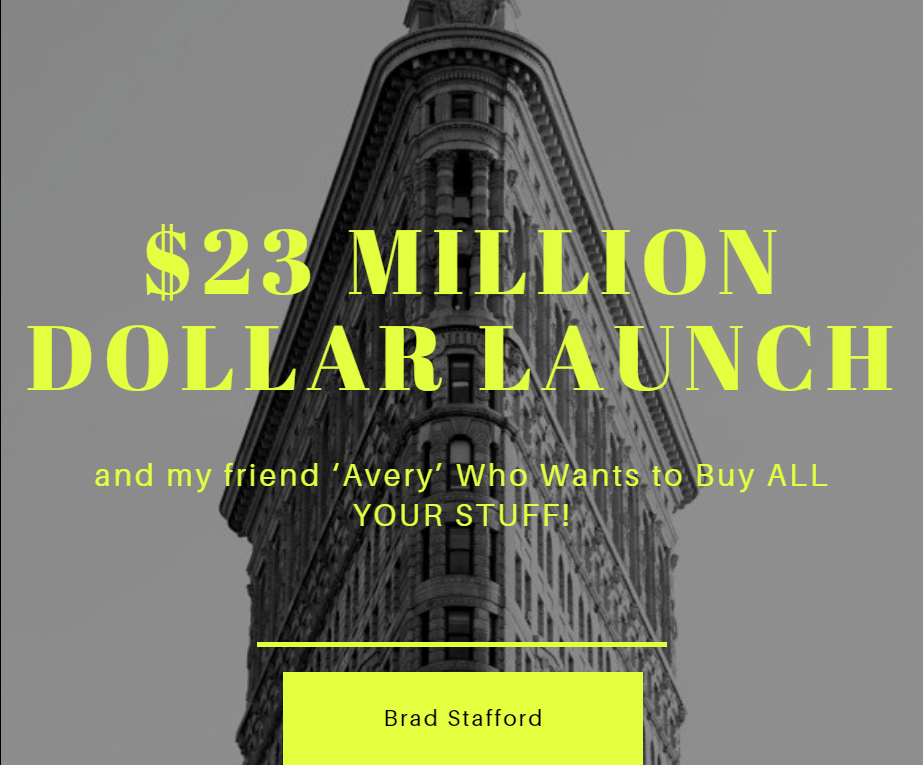 Last month, the legendary team at Legacy Research just pulled off a multi-record launch… $23 million launch in sales…in weeks! INSANE!!
Now, it was an awesome promo from start to finish. Copy, offer, the 'meganar' (like a webinar only with 100k people), Fernando and his team behind the scenes…all of it was top notch.
Today I'd like to give you some HUGE insights from behind the scenes…
First I want you to read this from Justin Brooke…oh you don't know Justin?!
If you don't know Justin, it's fine…he's just one of the best and brightest advertising minds of our day! He's managed $10 million in ad spend and acquired 50,000 customers for his clients. Today he is founder of AdSkills.com, an online school for digital media buyers…
And earlier he posted some insights from his experience promoting the Legacy Research (don't call them agora 😉 ) bitcoin launch!
So take it over Justin!
====
Sooooo many people trying to copy the $23mil Bitcoin Meganar success, but they are missing what made it actually work.
I've been on 4-5 calls since promoting the Meganar, people pitching me their webinar. Here's what everyone's missing…
Big idea, big idea, big idea. Noooo one wants to watch yet another "How you could make money investing in xCoin." If the Meganar had just been "Teeka's System For Predicting Winning Cryptocurrency Investments" it would not have worked as well. You could literally slide any experts name in there and sadly that is the state of crypto offers right now. The big idea of "1 Million Dollar Bitcoin Giveaway" is what made people's wallets pop a boner. You need a big sexy boner popping idea. Or you are going to have mediocre results. Big idea. Big idea. Big IDEA!

Track record is all the market cares about. I got the honor of meeting Teeka in person. We had dinner together, he is genuinely a cool, funny, helpful person. So I hate saying it, but no one really cares about Teeka. It's not his pretty smile or brown skin or age or even his hedge fund history. Yada… yada… Yada. Only thing people care about is his insane track record for predicting trades with huge gains. He sneezes 2 and 3 baggers, but has multiple 10 baggers to his credit. Always comes back to results. Can you deliver. Show me irrefutable proof, mayyyybe then I'll buy – if I'm not too busy watching Ozark or Stranger Things on Netflix. Only maybe. Cuz I'm freaking busy and tired. I want to be entertained, not pitched. So maybe, Mr. Super high track record. No track record… I already left 5mins in.

Guarantee… Cuz again the market only cares about results. The market is super skeptical of the bubble, the tech, the offer, and their own ability. Maybe if you make me a guarantee that soothes all my fears and makes me feel like this is a total win for me, you drew the short straw, I cannot lose… Then maybe I'll put forth the effort to sell my wife on why we need this right now. Cuz that's the real issue, I would love to roll the dice with you, I got the money, but I don't want to piss off the missus. And I REALLY don't want to look like a fool to her so this better have a killer guarantee. I can lose my money, but I cannot risk my partners trust in me. My fragile male ego cannot deal with that. Teeka offered 1000% return guaranteed, in writing, and recorded on video with his voice. 1000%!!! What do you got? 30 day money back? Doesn't sound too confident to me.
4. And lastly the biggest difference between all of Agora and other marketers is the voice. Most marketers use this pitchman voice. They sound like a radio ad that just won't stop. If you listened to the Meganar is was an interview. The pacing was slowed down. It sounded more like listening to a relaxed podcast, than it did a sales pitch. How are people supposed to hear your offer if you are talking super fast. They already barely understand what a Bitcoin is and here you are flying 100mph saying things like Fibonacci and retracement and Bittrex. Slooow down. This is all new to me, I may need you to say it twice. Plus, I'm watching Netflix in the background so this is tough already.

There's more, but if you at least hit these big 4 you'll do ok. Make these 4 mistakes though… won't be me promoting the event, good luck.

✌=======
THANKS JUSTIN…you rock man!
For our part at Traders News Media, when we were presented with this offer from an EXTERNAL marketing standpoint we saw a LOT of what Justin was seeing…heck we even talked to him!
We could smell the money long before it hit our account. We saw a MASSIVE opportunity, with limited risk, so we jumped on it.
We bought a TON of media, ran multiple variations of ads, ran emails to over 1 million people, and tested, then scaled as performance dictated.
For us as media buyers, we're LASER focused on leads for our financial education clients. Heck we're driving over 30k unique financial leads per month for our clients…we know that market REALLY well.
HOWEVER, this gave us an opportunity to test a theory that we've seen start to emerge.
It's an UNTAPPED demographic….a group of people who we kinda threw to the wayside, but seeing the numbers this demo produced we've already started expanding into it with our current financial clients!
And their results are proving to back up our theory!
See, we typically focus on the financial channels, as that produces our 'typical' customer for our clients. We in the financial space know this 'guy'…and he's a buyer.
HOWEVER, this new launch allowed us to see that this demographic is full of buyers. Until now, we never wanted to risk our clients results for our testing theories.
So analysis of this launch gave us a VERY clear risk reward formula to test our theory…now this is a whole new market for these types of products that's completely untapped, but the MESSAGE has to be 100% on point!
WHO ARE THEY!?!!
We believe it's 'Avery'.
Who's 'Avery'?? Well I don't want to give too much away as we're killing it for our clients…
…BUT we've found an untapped market of buyers who are millennials!! 'Avery' is what we're calling our customer 'caricature'. He's a guy who's into crypto and making money in ways outside of how his parents did it. He's a talker, but he's interested in making money FIRST…
Avery isn't buying everything…he's buying and interested in what's gonna make him money and give him something new to talk about. Financial offers aren't ALL for him, but he's open to them…just need to present to him in the right way and PLACE.
We've LOCATED AVERY and he's rewarding our clients!
Finding 'Avery' and the BUYER within him isn't a new process for us. It's really the same was what we've done with our clients offers…
[bctt tweet="We test it, if it works we scale into it. If it doesn't…we wait." username="bradstafford3″]
This crypto launch gave us enough confidence from a math problem side to really test hard to prove concept.
It's what we did with FB YEARS ago. We ran financial offers and that came up empty, so we shelved it, and now it's back and converting really well for clients.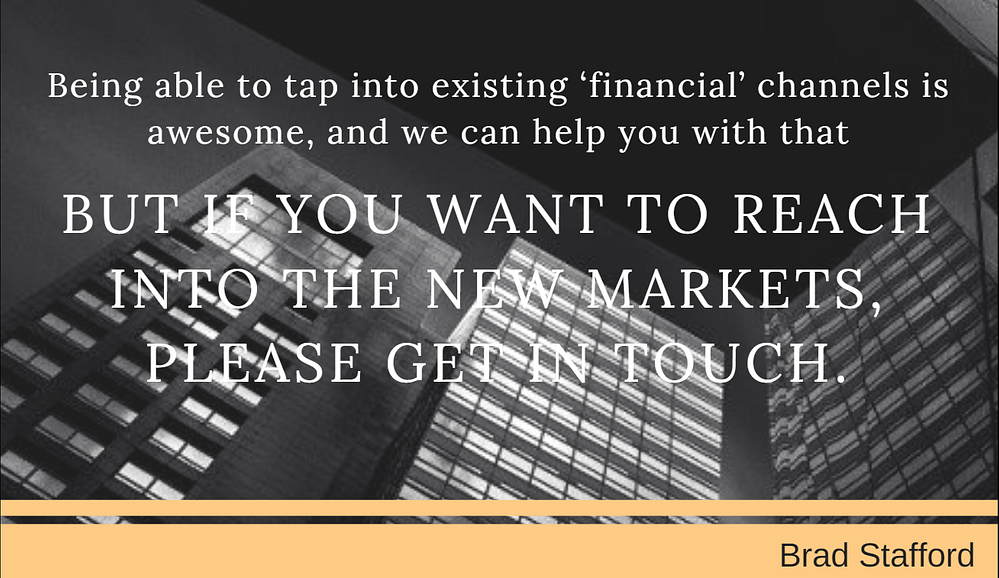 After the success of the Legacy Crypto launch our schedule is filling up in terms of clients we'll service!
If you'd like to chat more about seeing how we can help you tap into the "Avery" market…LET'S TALK!
I'll be honest…this could be HUGE for you and your offers.
Talk soon,
Brad
P.S. We don't work with dozens of clients…we work with a handful of top tier clients who want to scale with the highest quality leads possible…if that's you, contact me:
brad@tradersnewsmedia.com or brad@bradstafford.com or Skype or LinkedIn or Smoke Signal haha